AS WOMEN. WE FIGHT. WORK HARD. WE PUSH BOUNDARIES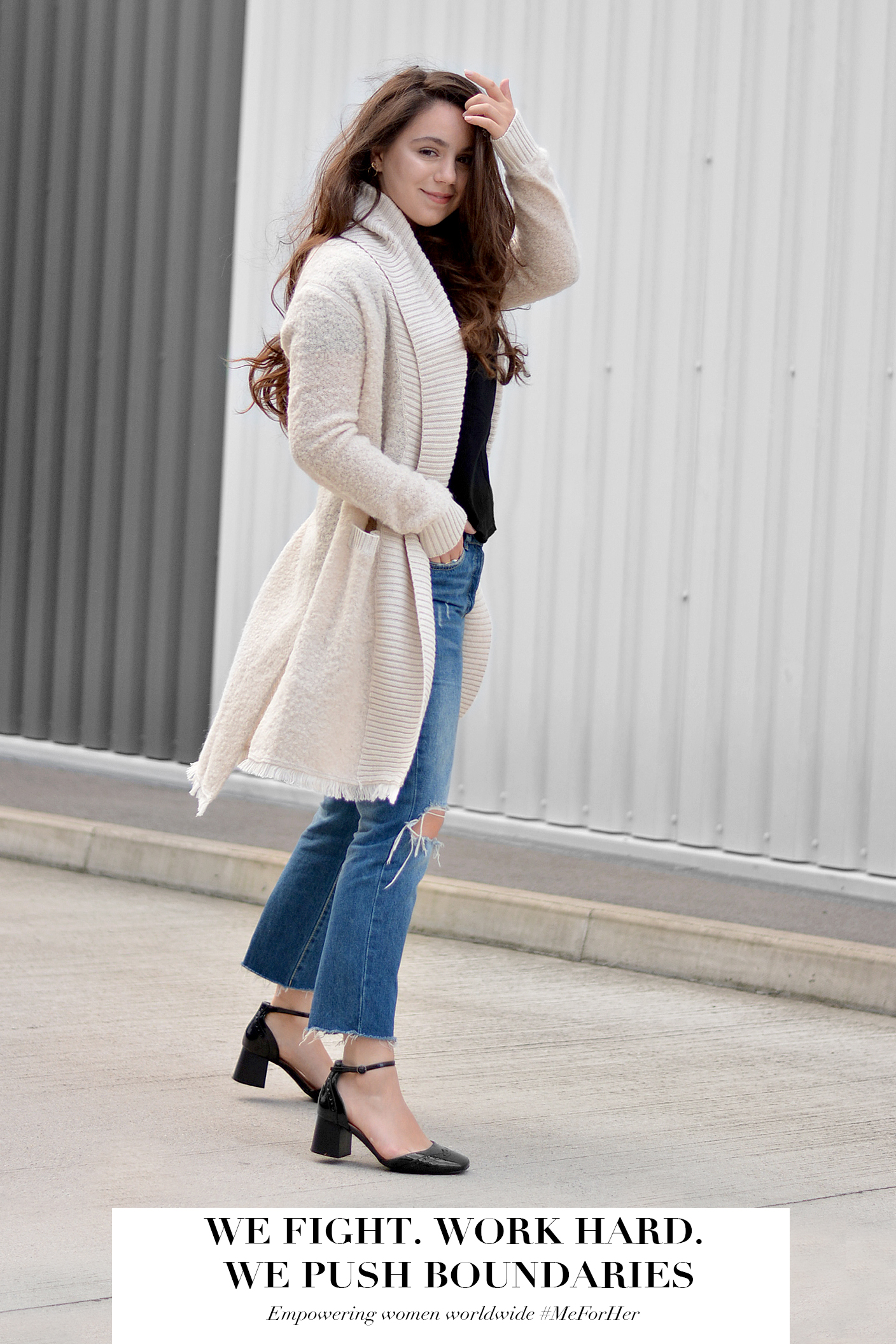 I'm kinda stunned.
Yes. Me. Who is always cool and chilled as pickle floating down a river of whipped cream. I know, it's hard to believe I came up with such a strange visual picture. But it's true.
Recently, there have been so many news reports on women marching down streets for their rights, simply claiming they are being mistreated in more ways than one. MISTREATED, YOU SAY?
It's 2017, and we still see women struggling to get what's theirs. As you might have already guessed, feminism is close to my heart, as it should be for everyone, no? And I am well aware that some of you might not agree…but I want to shed some light on this subject and frame it around the amazing partnership between Mejuri and Urgent Action Fund for Women's Human Rights, they are donating a portion of sales from their Evil Eye Collection (which is so beautiful by the way) to support the global women's fund that protects, strengthens and sustains women's and transgender human's rights. The Urgent Action Fund for Women's Human Rights is a global women's fund that protects, human rights defenders at critical moments. They intervene quickly when activists are poised to make great gains or face serious threats to their lives and work. They use online, text and mobile funding applications to respond to requests from women's human rights defenders within 72 hours and have funds on the ground within 1-7 days. How great is that!?
I think it's important for me to add a disclaimer…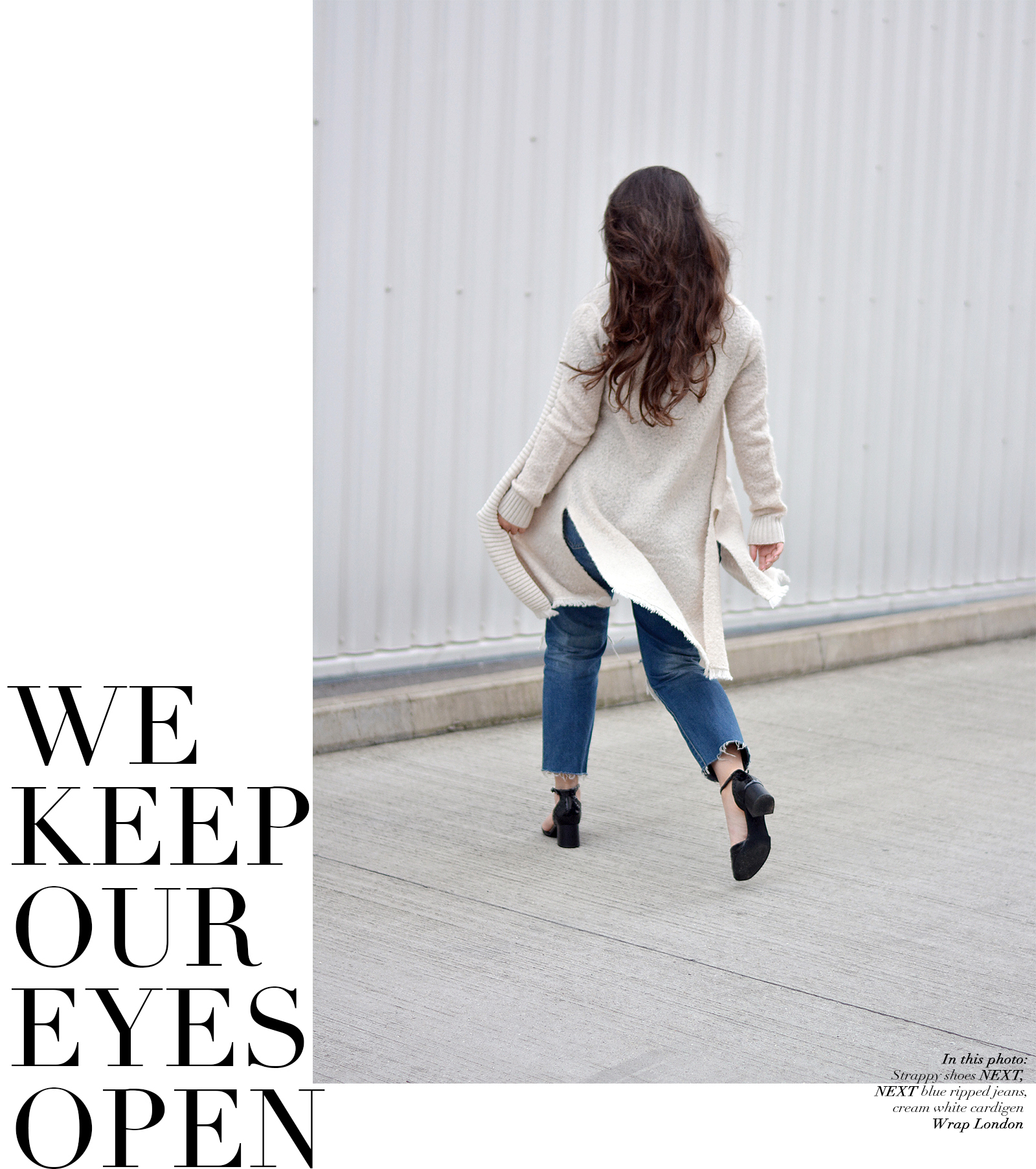 I am not an expert in any manner with such topics but solely being an independent woman sharing her opinion and supporting an amazing cause through a beautiful collection. I think it's great when people open up, discussing such grand topics and I wanted to do the same, sparking an interest and passion in you guys, bring awareness on these important issues and continue to learn and grow myself, by opening up a dialogue about Women's Human Rights.
Feminism is changing. "We fight. We work hard. We push boundaries. We keep our eyes open". With the rise of social media, feminist discourse moves at breakneck pace, broadening the movement and embracing new questions and criticisms. And yet, the essential preoccupations of women fighting for equality remain the same: reproductive rights, economic freedom, education, and personal safety, to name just a few. From searing critiques of power and wealth to in-depth investigations of race, gender, and class. I feel like coming together on this amazing cause offers new perspectives on gender in the twenty-first century, don't you agree?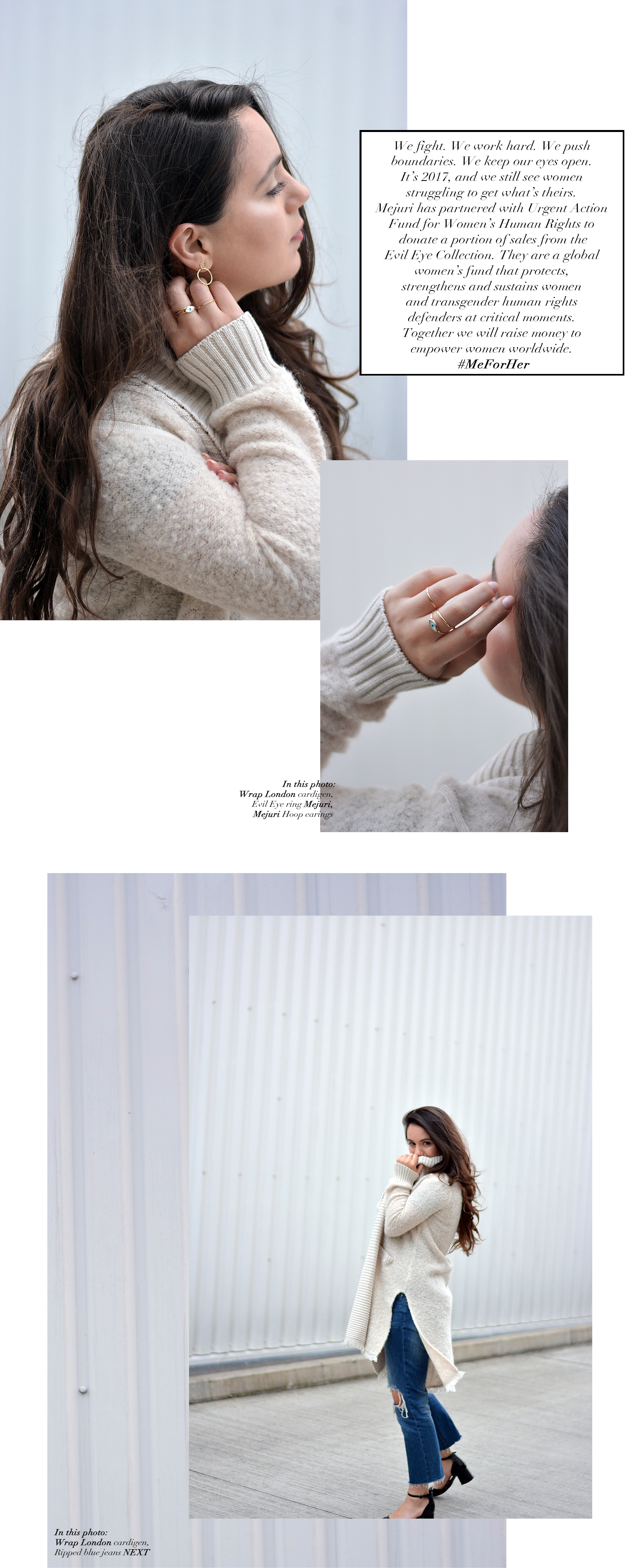 The Evil Eye Collection is handcrafted in either 14k gold or sterling silver inlaid with mother-of-pearl, and is said to protect against negative energy and bad luck. The design has become an iconic piece of jewelry and has gone from fashion trend to necessary staple. With such a beautiful, delicate, positive collection, I am proud to be a woman, to fight every day for our rights by simply standing up for what's right and make myself and everyone around me proud to be themselves. Wearing the Evil Eye collection reminds me of that every day, and it's a magnificent feeling.
I've gotten involved, it's your turn now. Together we will raise money to empower women worldwide. All you have to do is buy one, two or all of the Evil Eye collection and make a difference. #MeForHer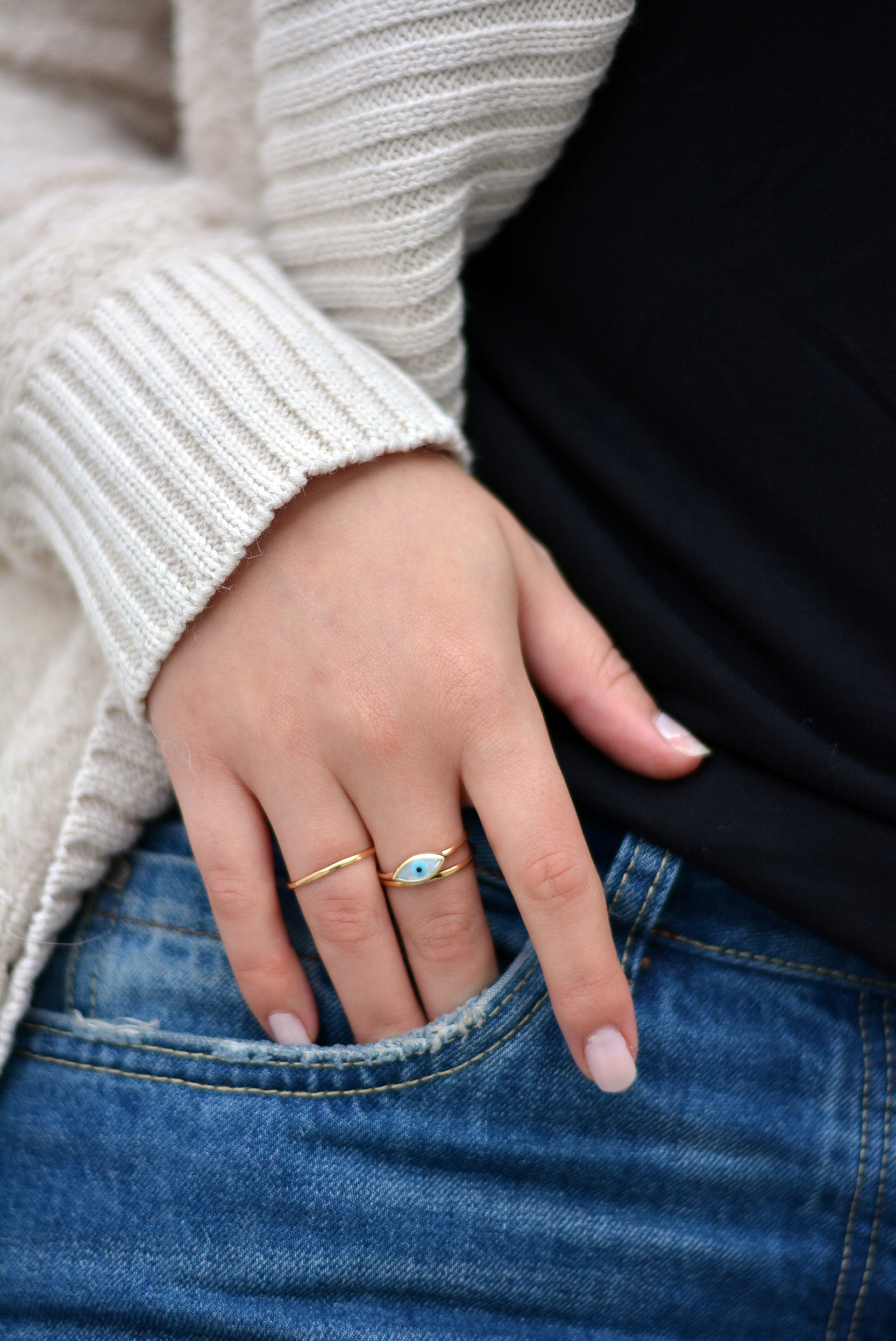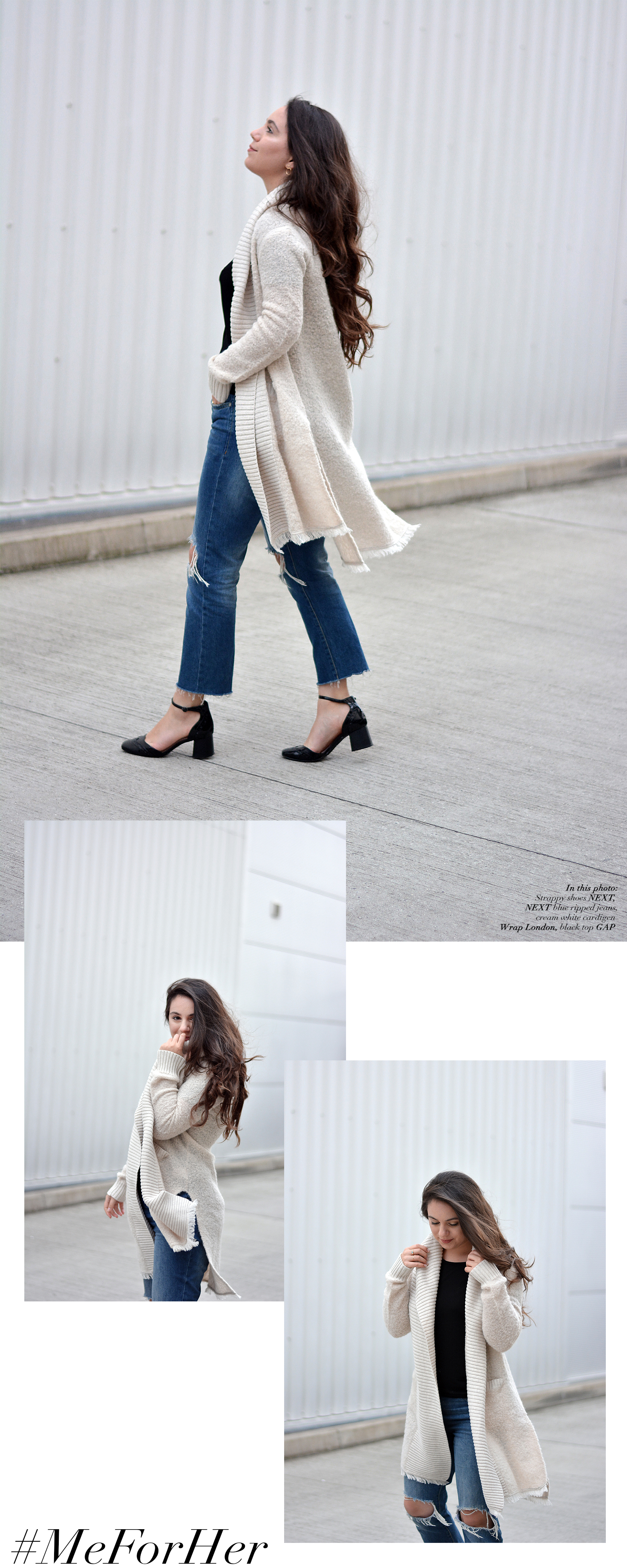 SHOP THE POST
Next jeans & brogues strap shoes, Wrap London cardigan,  Gap black Modern crew tee, Evil Eye gold ring & hoop earrings form Mejuri
Photos by Natural Hues 
*Advertorial post
---
---