THE CLASSIC JEAN | WHAT TO BUY & HOW TO CARE FOR YOUR JENAS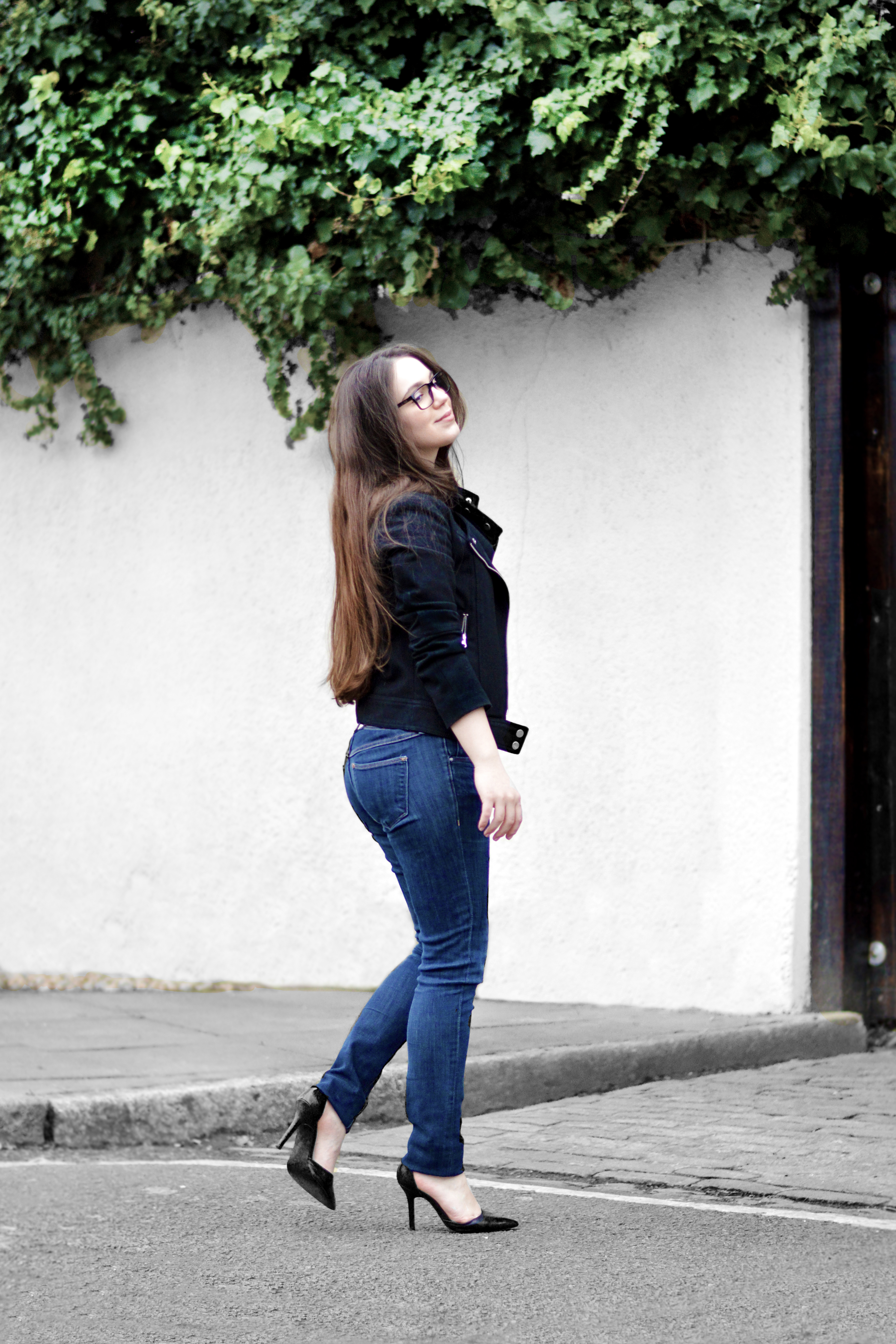 Jeans have always been my number one wardrobe essential. I have always felt more comfortable, sexier and relaxed in jeans and thinking of it now, I hardly own skirts or dresses. I remember some of my earliest pairs, and sadly some weren't as good as others. However, I feel if you invest in good jeans or really take care of them, they can last you a lifetime! One of the worst things that can happen to your jeans is discolouration or becoming loose and out of sync with your shape, that could mean two things, you've either bought the wrong size or you are over washing your jeans. Along with that, the quality of jeans too. I've learnt over time, investing your money into brands that you know can deliver a good quality jean is very important. So, to make things a little more clear, here are a few tips I've learnt along the way. 
1. My number one rule, shopping for your jeans. Depending on what kind of style you want to go for. Bf cuts, skinny or snug but comfortable fit-always take the next size down and up in the changing rooms, more curvy girls from the hips down (like my self) benefit a size up, as it will fit more loose, thiner girls, size down. At the end of your fitting, its all about what you think looks and feels good on you with the shape of your body. However, the good part about all this is, once you know your size with certain brands, and you stick to them, this whole process will be a little easier when choosing your next pair. 
2. DON'T WASH YOUR JEANS after every wear or two, unless you really have to. Over time jeans became better then the first time you bought them, age matters in the jean world, like a good fine wine. But if you wash, dry and iron them after every wear, they will loose life, colour and lead them to quickly loose shape. 
3. With that in mind, wash, dry and iron your jeans and other peace of clothing inside out. This will protect them from detergent stains, colour staining and heat damage, and always check washing instruction or if that gets to much, dry cleaning them will save you all the hassle.  
4. Ripped jeans, I don't own enough, but rips and distressed  details can tear either with wear or washing. This usually is great as it looks for natural, so I tend to go with the flow, but if you do feel like it has became to exaggerated, then don't be afraid to patch them up from the inside, it could turn into a very interesting design.
5. Hight, now, thats a major thing for me. We don't all possess the "standard" high or leg length, but luckily a lot of denim brands now offer different lengths that you can play around with. If you're a petite body type like myself, it isn't always easy to pick a pair and go with it, the times I've had to cut into my jeans and alter. However, because brands now have a variety of lengths and variety picking a pair can be easier then you think. And for those long legged beauties, I applaud you for how lucky you are, look for "tall" lengths, or embrace the cropped for while its trending! 
This might be a lot to take in, but learning your body shape and what brands/sizes work for you is a must when buying a pair, especially if you are investing in something you want to last. I would love to know any of your own tips on buying and fitting denim, your favourite brands and what has worked for you guys; I am always egger to know more! 
H&M jacket (similar here and here)
Topshop black T-shirt (similar here and here)
Jeans ( similar here, here and here)
BCBGeneration black heels (similar here)
Photography by Zak Walton of Walton&Wang Blog.
---
---