Pancake Tuesday done the right way !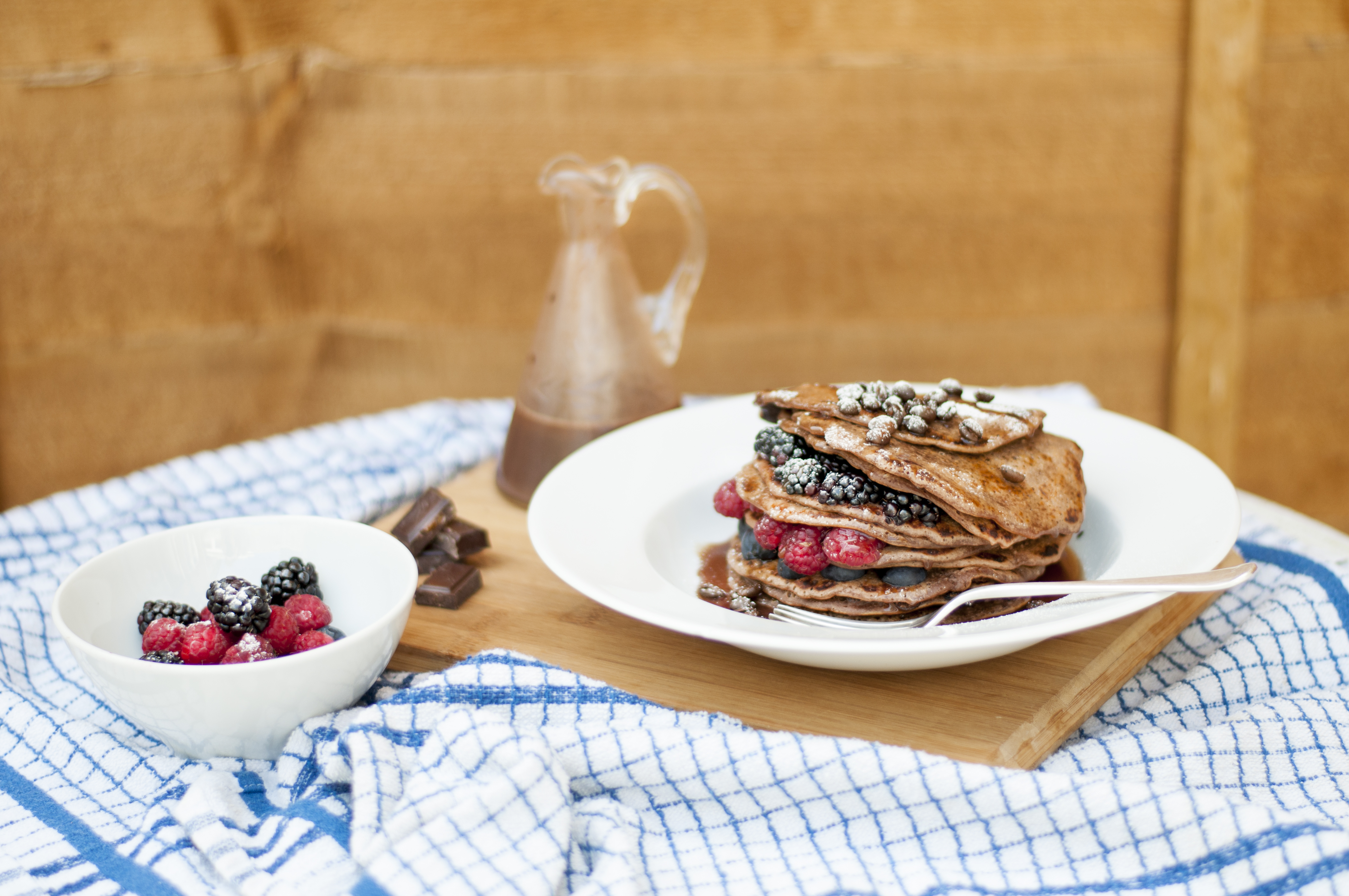 Yup.. I love my pancakes full of goodness and full of all my favourite toppings.
hmm I've missed out nutella.. yea that's right, healthy diet !
I've been meaning to do a blog post about my favourite way  of panning some good pancakes, but seeing as it was pancake tuesday … it was the perfect time !
For this particular sweet tooth dish, I found inspiration from Sanisbury's
Chocolate pancakes with chocolate sauce  which you can find if you click on the name.Now, to every great dish, there is a little improvisation to taste.In my case, it was a lot of improvisation… a little more healthier that is.
Serves 6 (makes 25 pancakes in total)
Prep: 10 minutes plus 20 minutes resting time
Cooking: 20 minutes
Total: 50 minutes
Ingredients
150g plain flour 
30g cocoa powder 
2½ tsp baking powder
60g caster sugar 
2 large free range Woodland 
165ml semi-skimmed milk 
2 tbsp vegetable oil 
5-6 squares of dark chocolate 
handful of Raspberries, Blueberries, Blackberries
For the chocolate sauce:
100g dark chocolate 
150ml semi-skimmed milk
40g unsalted butter
2 tbsp golden syrup
In a large mixing bowl, put together the flour, cocoa, baking powder and sugar. In a jug, gently whisk the milk and eggs to bring them together, and then add to the dry ingredients. Mix everything gently until just combined – over-whisking can result in rubbery pancakes, so a few lumps left in the mixture are fine. Cover with clingfilm and leave in the fridge for 20 minutes to rest.
Meanwhile, make your chocolate sauce. Place all the ingredients except the golden syrup in a small saucepan over a gentle heat, stirring often until melted and combined. Remove from the heat and add the golden syrup, whisking until shiny. Cover to keep warm until needed.
Heat a large frying pan over a medium heat and brush lightly with oil. Using a large spoon, carefully drop batter onto the base of the pan to make pancakes about 10cm across. Cook for roughly 45 seconds until bubbles start to appear on the surface and the pancake is lightly browned on the underside, then flip over and cook for a further 45 seconds. Remove from the pan and set aside on a plate. Stack the pancakes separated by greaseproof paper to prevent sticking, and keep warm until all the pancakes are cooked.
Serve in a stack drizzled with the chocolate sauce, fine sugar and coffee beans to give it a great smell. 
---
---