MONTHLY OBSESSION

Yes, I am guilty of liking all things beautiful and different; aren't we all? But lets talk a little about this amazing clutch that I have been obsessing over these couple of months; 'beautiful piece that I can be incorporated into my everyday life'.
Their bags are 100% made in Melbourne, Australia. Fully lined and finished with the most beautiful and durable leather, which is just what a London working girl needs, keeping it fresh, stylish in great quality wear! Look at that, reading it back sure  sounds like a salable AD sentence; trying to keep it professional guys. However, the more I started to obsess the more I looked into MADE IN NAME, as well as having the fortunate pleasure to sneek a quick little interview with the beautiful and talented designer Jackie Fazekas.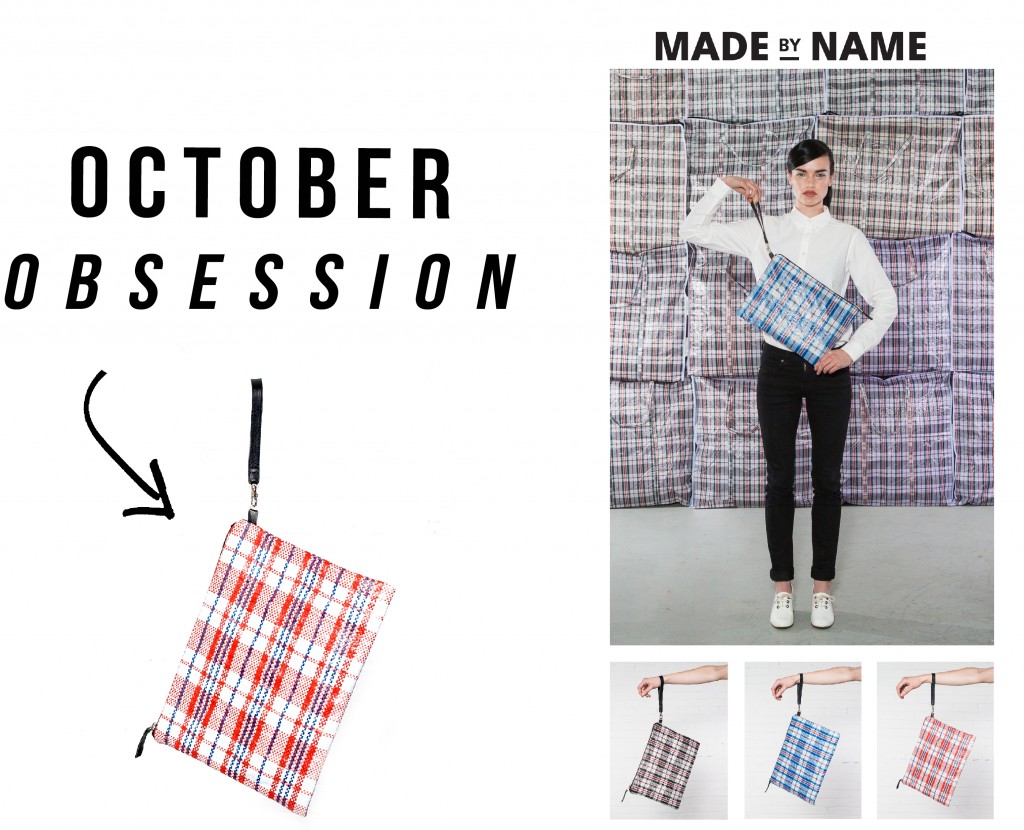 Click on the image to take you straight them ! 
Q: Why did you decide to become a fashion designer?  A: Fashion design runs in my blood. All my family have been in the fashion design game, so it came naturally to me from a  young age; I just adore it. Q: I see you have a very interesting design pattern to your bags, how did that come about, what makes them so unique? A:

I just adore taking a everyday item and turning it into wearable everyday 

accessories

. Everyone has memories of the original moving bags, and that was really cool to make something new out of something so usual to see. I also love texture and adore the motorcycle jacket leather. I think it makes a very interesting and beautiful combination when combined with the rest of the design. "Yes Jackie, I can't agree more with you there". Q: How would you go about explaining the element of this product. A: 

Every pieces in my bag collection is 

of

 the highest 

quality

 and is 

extremely

 durable. They are all made by hand, even when it comes to hand unpicking the original bags to get the fabric for the new bags for the range. They all have beautiful drill 

cotton

 lining and the leather is all 

hand cut and hand skived to make a the perfect strap and finish. Q: What are your plans for the future? A: 

Well, I would love to get into more 

accessories,

 as you can make the 

simplest of outfits so exciting by them. I adore shoes and love the sound of MADE BY NAME shoes as well

 as bags. Exciting things to come!

Q: These beautifully designed handbags, what kind of women do you see wearing them…? Are they going to be accessible to an everyday working women or a little more sophisticated ? A: I love the idea of any women or even men loving and wearing them. If you are a women, that likes simplicity with a twist, then MADE BY NAME  bags are what you need to turn to. Q: Do you work a lot with people in Europe or outside Australia ? A: I used to live and work in Berlin for a long time, and worked with a lot of amazing independent designer, but have yet to work much with anyone in Europe for MADE BY NAME. However, really love the idea,  I think its such an exciting place for this kind of find, minimal designed accessories. 

Q: What is your favorite part about everything?

 

A: I have two favorite parts to the process of designing MADE BY NAME. I love seeing the finished sample for the first time, after the original idea come from my head and sketches. The second, seeing someone walking down the street wearing my designs!! It's so exciting and  I have to hold myself back not to go up-to them and say, 'Thank you for wearing my label'! 
It was such a thrill to get in-touch with Jackie and really pick her brain at what this amazing label is all about. I believe in creative design with a passionate approach and very simple, effortless design; my favourite.
Interested in seeing more of Made By Name accessories click here and check out some of the awesome stuff that I might start a new obsession with!
---
---