Interview with the cool new artist on the block – ELMO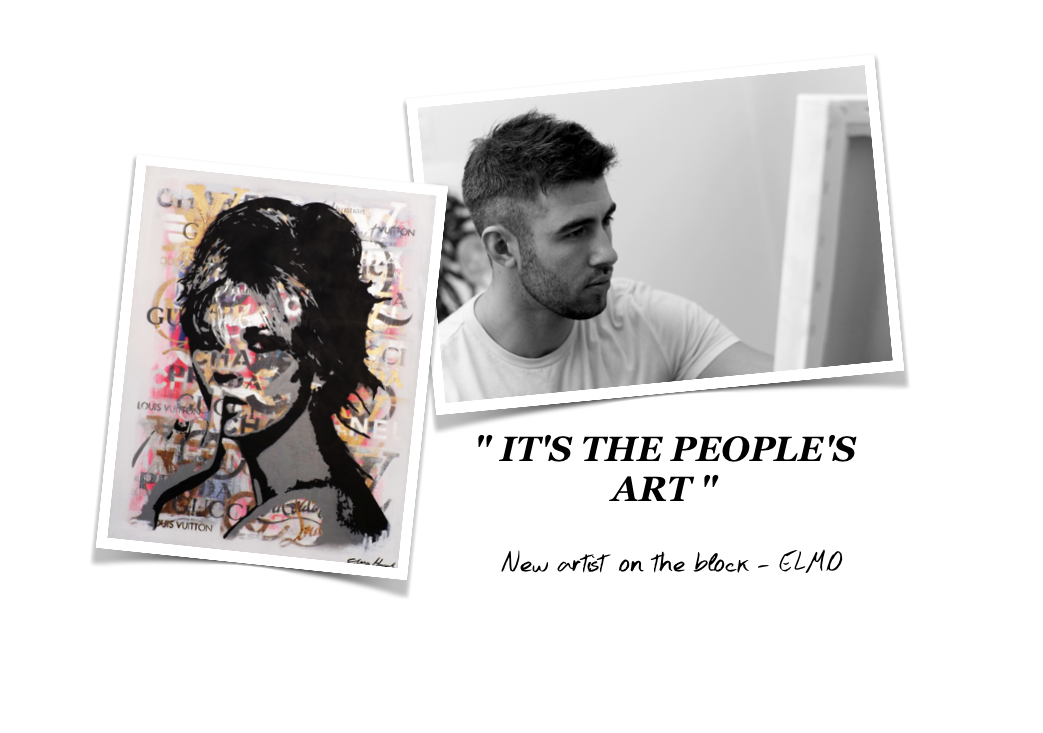 Facebook Page here … Really worth checking out the rest of this amazing work !
From a Street piece to a strong felt free hand spray paint canvas, I sit down with Elliot Hood or Elmo (as he is known in the art world ) an Urban/Contemporary artist based out of Brixton, South London to talk about his incredible controversial art pieces.
With a hard driven attitude and heart felt inspiration around him, he explains to me how he is able to apply such emotion and truth to his art!
So tell me Elmo, why do you do what you do?
"Painting and being creative brings me a huge amount of satisfaction and enjoyment, its good fun."
What's your background?
" I was born and grew up in Southampton before moving around the UK a bit, chasing a career in basketball, I eventually settled in London about 5 years ago which was when i started getting back into my art."
As an artist, what's integral to your work? 
"I think the most integral thing in being an artist is to be brave with your ideas and creations, its vital to be different and stand out. There is so much amazing talent out there so you need to have cool ideas."
In your opinion what role does the artist have in society like ours ?
"In my opinion, artists play a very important role, its about social commentary and the documentation of human feelings and emotion; music, art and poetry are the only things that truly portray it."
For you as a person influencing you art … what has been a seminal experience so far?
"My father passing away influenced me massively, he was a chronic alcoholic and I felt he had in many ways wasted his life through his addictions. When he died I had to find some way to turn it into positiveness for me and focussed on the negative feelings I had and putting them into making art, it helped me to heal."
[youtube=http://www.youtube.com/watch?v=wlvaY6XnARU]
Quickly, explain what you do in 100 words… 
This is difficult, cant we just say a picture paints a hundred words and leave it at that?
How has your art and pieces change over time ?
I started off with very simple designs and limited colour ranges, over the years I have moved from one layer stencils to four layers and my colour pallet has moved on significantly. I use some graffiti writing techniques for a lot of my pieces now, the layers make cool backgrounds. Having also moved onto using other materials for collage art like playing cards and newspaper.
Speaking of art haha .. what art do you most identify with?
"Street art, I wouldn't really call myself a through and through street artist, as the majority of my work is now canvas based, however, street art is the most important form of art in my opinion. Its a gift to everyone and it often provokes more discussion and opinion than a lot of other forms.

" IT'S THE PEOPLE'S ART "
 
As for your work,  whats most enjoyable thing you've done so far with it?
Recently free hand spray paint pieces I have been enjoying the most, I don't really have a plan when I start, I just go for it and am often surprised with the finished painting.
Themes.. when you paint, which do you pursue?
Most of the themes I follow are directly influenced by how I am feeling at the time, I like painting inspirational figures or people that I feel I can connect with on a deeper level, I think everyone needs to look at stuff sometimes that uplifts them. A lot of my work is influenced by the emotion of "love" I don't really know why as those that know me well know its not an emotion that is particularly dominant in my life, it does really fascinate me though and I like to imagine what it feels like and that gives me a lot of material.
Lets talk about experiences… so far which one has been the scariest?
My mum was diagnosed with Leukaemia last year, it was the scariest thing I could imagine. Fortunately, she battled it out and is in full remission now, very proud of her.
For inspirational purposes or personal.. whats your favourite art work or artist ?
I love the work of Fancoise Neilly, Conor Harrington, Banksy, Fin Dac and Mydog Sighs, all very different styles to what i do but i love looking at their work
Describe a real-life situation that inspired you?
Its difficult to name one, I have been involved in a lot of experiences that inspire me but working with the teenage cancer trust and creating artwork for their new ward in southampton was massively inspiring for me. I met some kids there that had really been through a lot but they were so incredibly positive, it was amazing to see.
HAHA you know this question will come soon then you would like. But what's your most embarrassing moment?
ah I don't disclose this sort of information, its a job for my friends!
Why art of all things?
It just seems like a natural vocation for me, it used to be sport and basketball now its art. I have to have something to focus my energy into or i would be miserable.
As an wrist what would you say is your artistic outlook on life?
You see the creative importance in everything around you, even mundane everyday things and experiences can be fascinating and inspire new work.
So, as you know so far, your art is being noticed, its amazing of course, so far what memorable responses have you had to your work?
Its strange, I have had so much praise and positive feedback about my work which is absolutely amazing and i massively appreciate anyone that takes the time to message me or share my work. Negative comments always stick in my head more but not in a bad way, you will always have haters and critics they make me work harder, i think they are great
Ah, so you know Picasso loved his wine and his art, as for you, what food, drink, song inspires you and drives you through your art making ?
Food doesn't really inspire me I am one of those people that eats when they are hungry, its just something I have to do! Drink wise, a cheeky whisky is never a bad shout. I love music and to name one particular genre or type as inspiration would be wrong but I listen to a crap load of music whilst painting, its very important to me.
Is the artistic life lonely? What do you do to counteract it?
Yeah in a way it can be its something I mainly do on my own, I have done a few live paints which are more interactive and sociable, Social media helps to share your work and what your up to. Its always good to collaborate with other artists when given the chance to as well.
From my own experience, there is a lot of positives and negatives about the art world, for you, what would you say you disliked about the art world?
I don't really dislike it, its is what it is. Can be quite fickle and its clearly very money orientated but there are some awesome people and a lot of great work for charity going on.
And here comes the question about your work, can you be your own judge and tell me what you like and dislike about your work?
I rely on stencils quite a lot, I'd like to be able to freehand more, but I am not great at it and sometimes when using spray paint you need a way to control the direction. But what I like is, Its colourful and I paint what I want, if I didn't like it I simply wouldn't paint it.
What do you think about funding, Should art be funded?
Yes, or at least there should be more funding for art studios, its a nightmare in London at the moment. All the artists are loosing their studios to big corporations so they can put up fancy flats everywhere.
These funds, what role does arts funding really help with from your own experience?
I don't know, I haven't had any funding, everything I have done has been funded by myself or people that buy my work
A few final questions to end the topic.. 
You're an artist and from what you've told me, you feel .. we all feel.. so what makes you angry?
Racism, cruelty to animals, homophobia, umbrellas, people that try and get on the tube without letting you off
Ahh yes this is fun, so if you would had superpower would you have and why?
Flying would be awesome, could do some great throw ups on the sides of big buildings without the need of a ladder
With those powers, what could be your dream project?
I am planning a big project with stand up to cancer at the moment, I cant really disclose too much but if it comes off it will be my dream project
Favourite or most inspirational place?
I love walking down the embankment on the river, amazing sights and good thinking time
What's the best piece of advice you've been given?
Be yourself and paint what you want.
---
---