Green Avocado and Brown Linseed Salad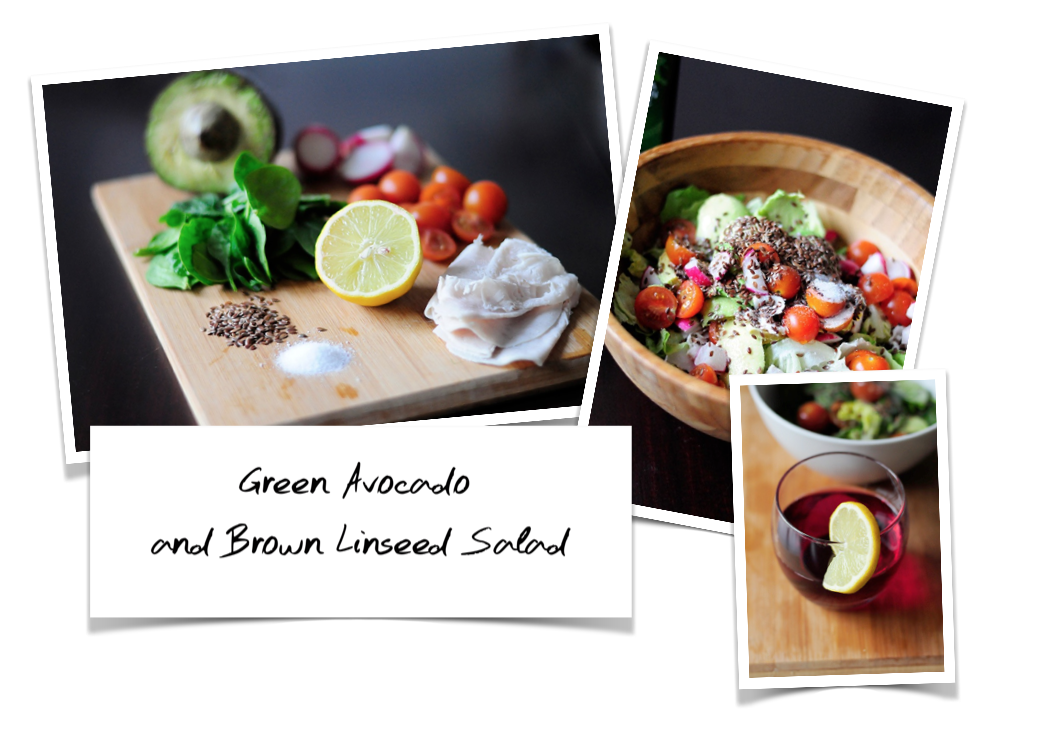 Bright up this rainy day with a good summer feeling salad ..
I want to call this, my carb free little genius salad ..
A whole lot of goodness in a bowl !  
For those of you that want to keep off the sweet tooth for this New Year and really get dug into the healthy resolutions of the year.. then dig in!
If you happen to be a salad lover like me,  who's trying to fit a little green in your diet this month, then this is for you.
Even if your not.. give it a go, and you'll be surprised how you fall back in love with the "salad idea"!
It's incredibly easy and not at all time consuming to throw together. It serves two or three small bowls as a main or side dish..
For this  just grab:
– Spinach ( a few handfuls ) *you can also add Lettuce so it add body and nutrition to the salad*
– 1 large avocado .. *depends how much you like in your salad.. I had a big avocado so I used half*
– 2 handfuls of cherry tomatoes *cut in half so theres more to go around and easier to chew*
– 2 cut and washed Perry radish *more then two and the flavour dominates the salad*
–  4 to 5 chicken breast sliced thinly * you can add more if give it a more consistent texture*
– 1 to 2 pinches of salt to give it some flavour 
– 1 or half a lemon *depends if you want a stronger seasoned taste*
– 2 table spoons of olive oil  *to bring all the ingredients together and not make the salad dry*
– 5 to 6 pinches of Brown Linseed's *Linseed, or flaxseed, is one of the most potent sources of omega 3 fatty acids found in nature.  It has a whole host of health benefits, and best of all, these benefits apply to everyone*
 Read on here to learn more about Brown Linseed's … They are very good fro your health ! 
Put everything in a bowl and mix away.. It looks delicious already.
Serve it in a bowl with a little more drizzle of lemon and a toping of Brown Linseed's.

To keep to the health theme.. opt for some cranberry juice with a lemon toping to really want to wish summer back!
Cranberry juice is rich in antioxidants, vitamin C and salicylic acid. By containing only 45 calories per cup, cranberry juice fits very well within the dietary guidelines, it has so many healthy benefits !
Read more here. 
Ridiculously simple and totally delicious !  a healthy start to an amazing year head ! 
ENJOY !
---
---