Gifts For Gents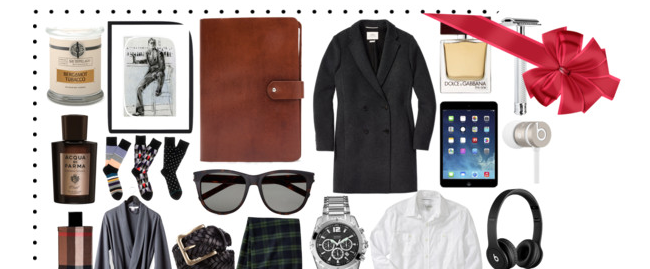 One year (a very bad year that was), we, as a family decided not to buy  gifts for each other that Christmas. Having been a very busy year, the thought process and carful thinking for each individual gift was the obviously to much, so we opted to get nothing for no one another: Why spend all the time and money to get people stuff they don't need or would have probably bought for themselves anyway? Well that was our (the family) thinking….
The result was obviously horrible : This was the worst Christmas ever. Don't ever do this. Waking up on Christmas (or any other holiday) and finding no gifts sucks. Oh, but you were with your loved ones on Hannukah! Isn't that the same as eight gifts? NO.
That said, I do get the fact that figuring out what to get your loved ones can be overwhelming and borderline tedious. You want to be thoughtful with your gift, and not superficial.  I'm a super gift giver, and I don't think I ever have a "£" budget when it comes to Christmas (or any other holiday or celebration); yea I know that's bad. It's kind of my thing, ya know?
For that reason, I'm here to help you. Whether it's your boyfriend, your family, or that guy in the office you want to notice you, every item on this list is a star. From the cool and casual, to the really sporty man, and we wont forget the formal men to..  Hope it helps!
That should tide you over for a little while. For more men's fashion inspiration, see here. 
Links to all the boarded items are below..Long list I know.
 Enjoy the shopping!!!!
Related Posts
---
---