Birte Marie Kube – Mariestyle Interview & Eye Catching art !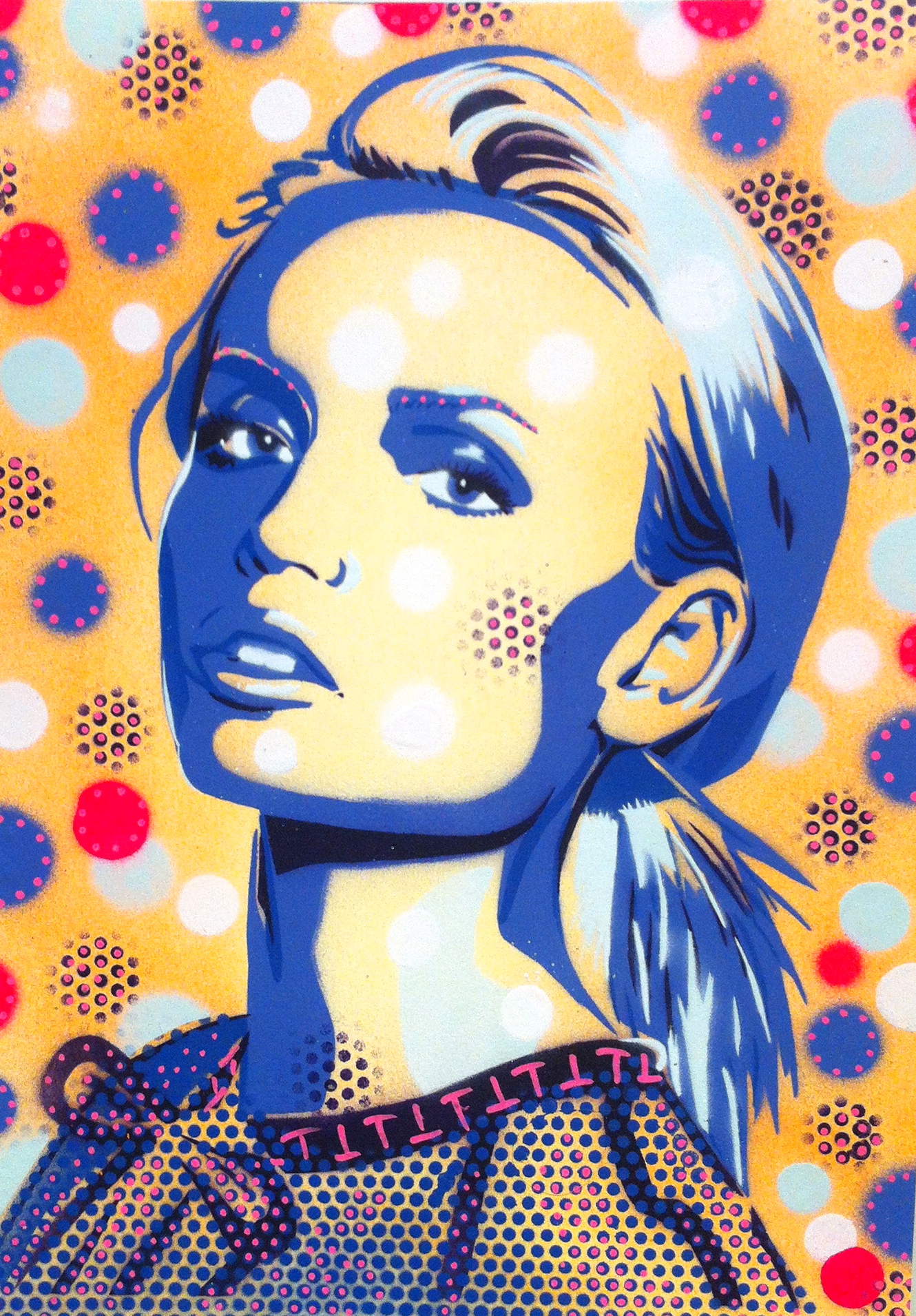 Magdalena February, March, April 2014 spray paint on paper  29,7 x 42 cm
---
Birte Marie Kube is not the typical artist; in fact, she has enough passion to turn an amateur into an artist. Following a school trip to Munich, Marie discovered her love for art and she began to create paintings. "I got in touch with art and painting on the trip, I saw large scale impressionist paintings by Monet and his colleagues. It took my breath away, it inspired me so much." Describing her path into the art world, she discusses how it was "very unacademic". Born in 1976 in Germany, Marie grew up in a very small town and went to school there. The reasons behind why she is an artist are fairly simple. "I just love colours, they give me energy. That's the key to my work. It's about the energy that I get out of the working process and I always feel very relieved when there is something (the result) in front of me which makes me happy."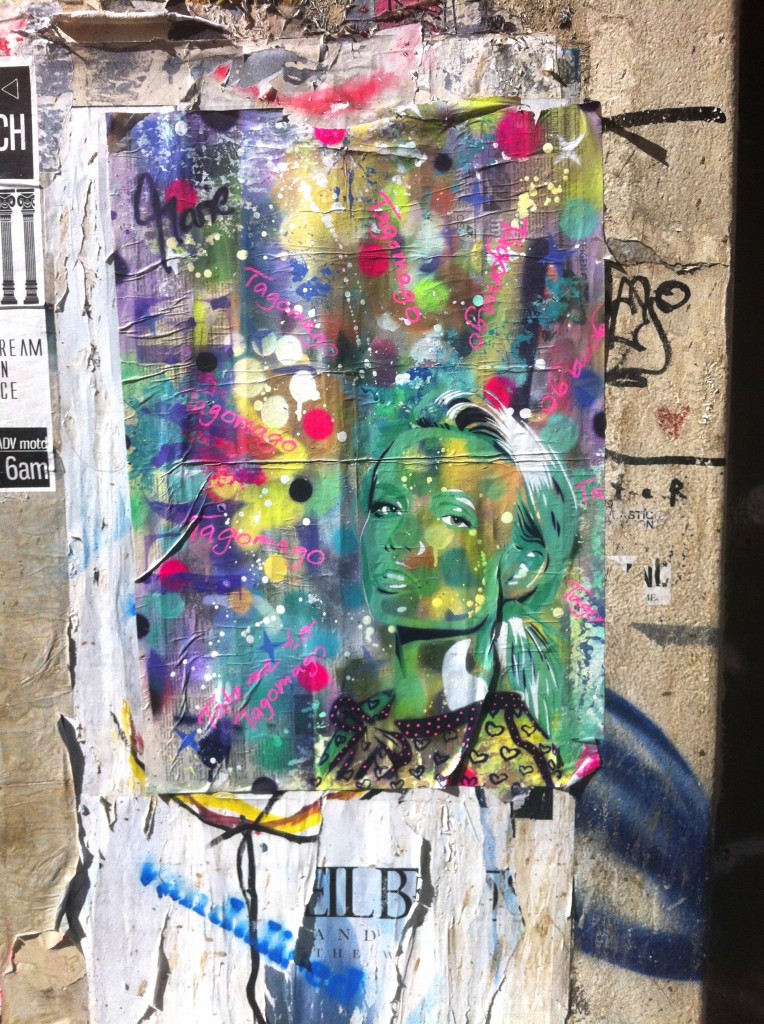 Take me to Tagomago, April 2014 paste-up (spray paint and other media on newspaper) Fashion Street, London E1
  Marie went on to discuss how whilst in London, she worked as nanny during the daytime in order to learn English by taking language courses in the evening. That is when Marie realised her interest in fashion alongside art. "I had so many things to see and absorb in London. I went to the Victoria & Albert Museum to look at the fashion –some of which has been there since 1996- so they had big room for dresses. Back then, they didn't have regular exhibitions like they have now, but they had developed that direction at the time. So I looked at the different dresses from different centuries. The National Gallery also inspired me as well as art colleges back home. I applied with different portfolios at different schools and I was accepted by an academy where I studied art and English." Several artists are known to use artist as a form of expressing their emotions, stories or simply to get a message across. However for Marie, there is no particular statement that she is trying to depict in her artwork. "I think it's just interesting to develop something and I'm really happy to merge the different branches that I'm working on. There is a crossover between fashion and art, I call it fashart." Art can often be controversial if displayed publicly as most of the time it is not considered legal, however anonymous artists such as Banksy is just one of the artists that inspires Marie to do what she does. "I read the biography on Banksy, everybody loves Banksy. I actually went on a hunt for Banksy paintings, they're amazing. Alex Catt is also one of my favourite painters; I love the oil paintings and portraits."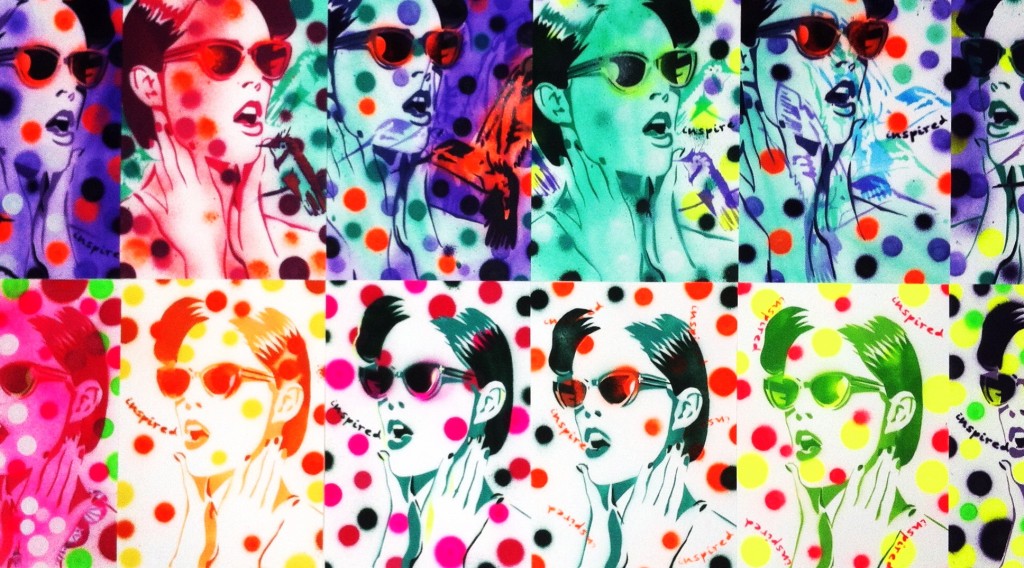 Coco (with hummingbirds)  February 2014  spray paint on paper  21 x 29,7 cm
Although some may claim that art is now a dying field, Marie thinks that there is more to it than that. "As a teacher, I think art is underrated in society, although maybe not in vibrant places such as London where it is cherished a lot. But in everyday life, especially in Germany, I would want it to be more significant. Especially street art, it should be recognised by more people who are in charge and can do something about it so that it's more accepted (within the law). There should be more places where you can spray so that we don't have to hide it anymore and be able to put our work out there and express ourselves. I think it's just very important for people to express themselves in cultures, besides earning money and having a great economy which is very important for the people. It's not always about the money and about the industry making profit. It also involves working things out together, communicating."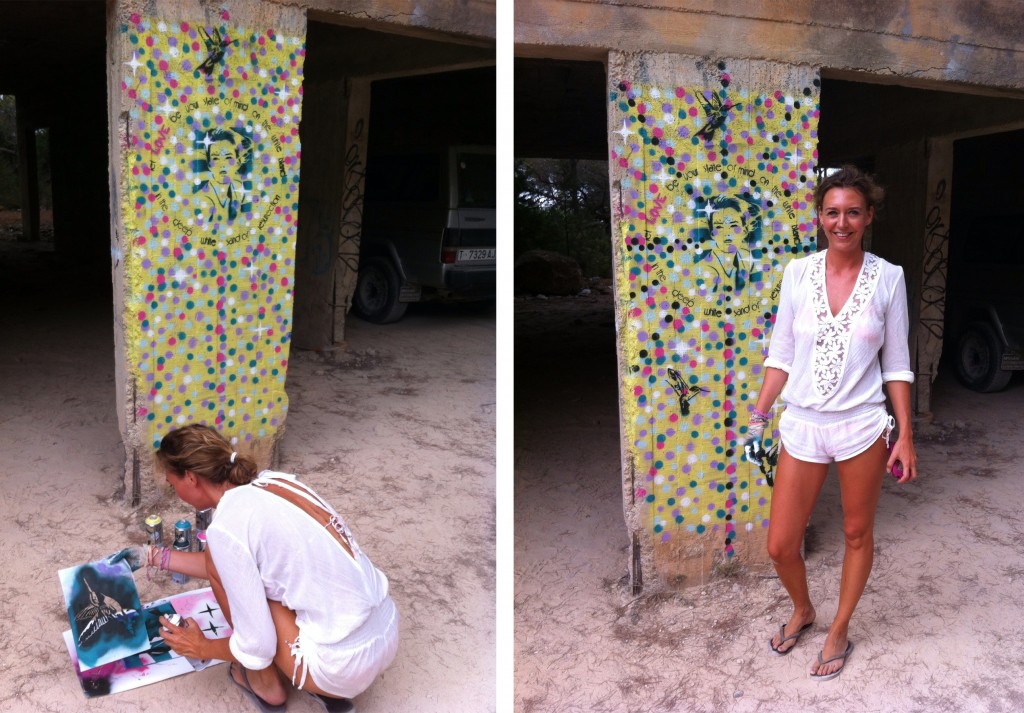 Progressing from a student artist into an art teacher, Marie maintains that her art work has also changed throughout her life. "I started with oil painting, classic paintings. Then I met a graffiti sprayer and he inspired me to use those spray cans and to just go out there to spray paint, also at home in the studio too. So that was a big influence. But what I do isn't graffiti, it's not writing. It involves portraits, its stencil art. It's  a bit difficult because I've been torn, I would be out there more spray painting (if it was legal) and that's why I want it to be open for everybody." Thinking of the positive and negative experiences she's been through as an artist, Marie is quick to recall when she took part in a festival. "Last year in Dusseldorf in my home town and it was the first urban art festival which was cool. They organised some places where we could spray paint and there was a big gallery where we could spray indoors and I also sprayed in an outdoor public swimming pool. There were some useless concrete columns and we sprayed on them which were really nice because it's close to water. I love water and I always try to put my stuff near where there is water. I like the beach and swimming, I like boat trips and summer sun and relaxing. For a long time, the theme in my artwork involved pool scenes, beach scenes, women laying and relaxing somewhere." Marie appears to have a strong, determined personality and laughs off any 'scary' experiences encountered in the art world. "I don't think it's scary. I don't think I've ever experienced anything scary because I am not scared easily. I think I just love people and if there is anything scary I'll just go for it. I just go with the impulse and live with the consequences. But in some outdoor spraying events, then of course there were some scary things but they didn't get to me. I'm very lucky; I've got a good disguise. I don't look like a sprayer; I look like a normal girl. So they just think there's a girl on the bike, cycling on the footpath and so I sneak away with it but sometimes I was close (to getting caught). So that scared me a little bit."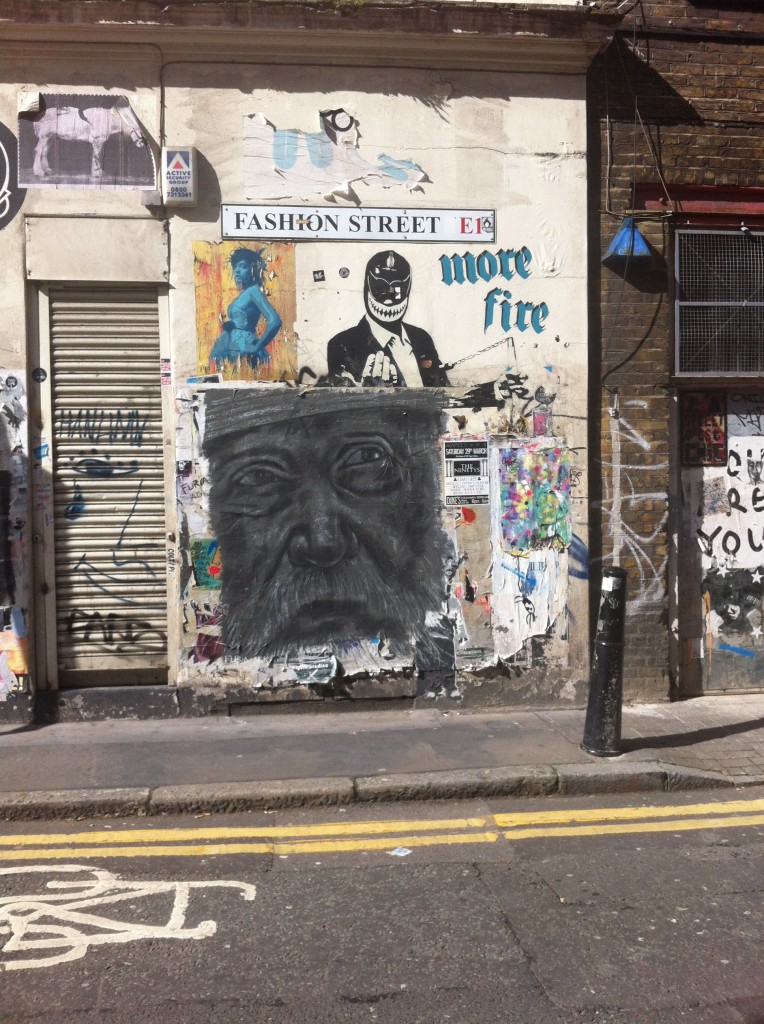 Having said that, Marie has a strong opinion on the negative aspect of the art world. "People just don't look close enough sometimes I think, that is the problem. They have prejudice, people should take some more time to get involved and today it's quite difficult because of the huge amount of pictures and photos you get digitally. That's what I dislike about many critics and people who just think they know everything but they don't, because they haven't had a closer look at pieces. So the superficial glance is not enough and that's what I tell my students which is also why we analyse different paintings. There's so much more to it, it's mountain layered and you have to be like a detective and get into the story of the artist to understand. But many people don't make the effort and that's what I dislike, we should work against this short attention span behaviour." As world-renown artist Picasso loved wine and art, Marie has a different form of inspiration when creating her artwork. "The thing that drives me is very important as it's where I get all my energy, it's house music. I love listening to Ibiza Global Radio and Ibiza is my favourite place where I go to every summer. I'll spend 4 weeks this summer and do some paintings. Being in Ibiza and hearing that music gives off the vibe I need. I'm thinking of moving there because I'm taking a sabbatical and in 2016 I won't have to work as a teacher, so I'll have free time. I want to travel and probably go live there for a few months."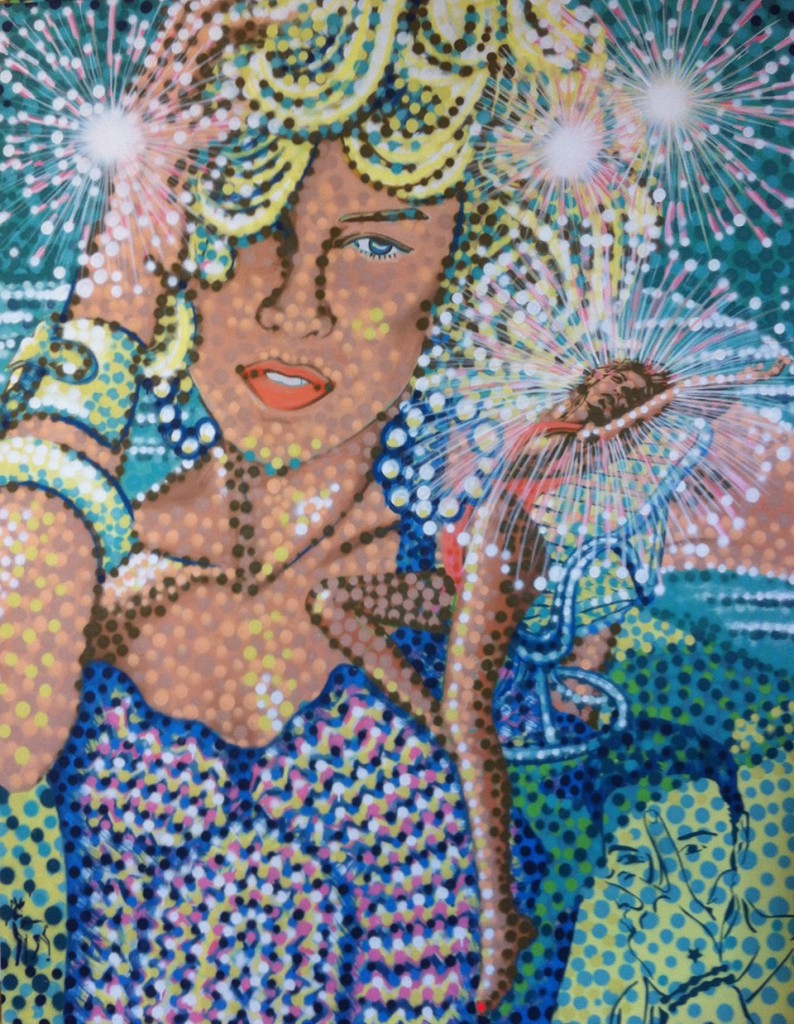 Miami pool drama 155 x 200cm acryl lacquer and oil colours on canvas
Working as an artist not only involves being in a tough field, it is widely known that it can also get lonely. However Marie disagrees with those who say you are always on your own. "I teach so that it's a total different life. It's like you're working upfront and you just go for it and you try to work with the kids and you laugh and have fun with them. That's very social and it fulfils me, giving them something from what I can do. We both influence each other so that it is a mutual enrichment and it works for me." In life, there is always that one thing that we wish we could change or improve, particularly when it comes to our working lives. When asked what superpower Marie would like to have, it took some deep thought to reach an idea and it is something that everyone in the UK would agree on.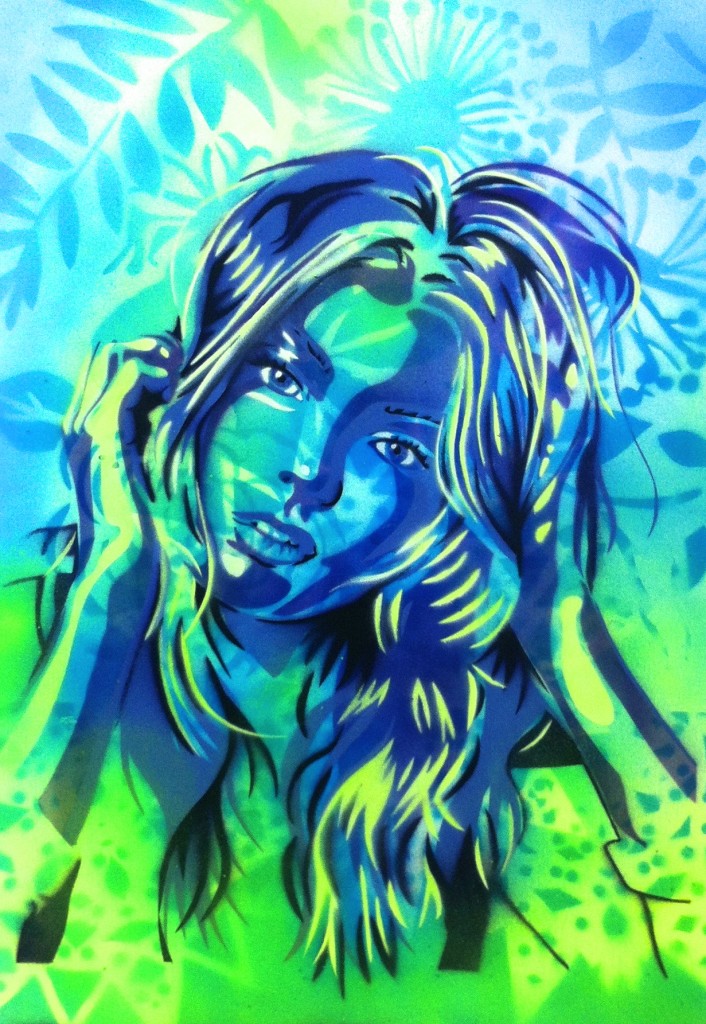 Es Vive Daria  June 2014  spray paint on paper  29,7 x 42 cm
"I depend very much on the weather, if the sun is shining and it's above 20 degrees I feel better. The weather has a certain effect on us, our feelings and so on. I would want to have the power to change the weather to make it more pleasant and let the sun shine for everybody every day." Citing her favourite places as Ibiza and London, Marie is fond of Londoners. "You get to know people easily and different kinds of people. There is openness from people which I prefer, there are no boundaries." Giving advice for aspiring artists, Marie comments: "I would say you have to work hard for it and you have to be dedicated and you have to know what it's all about. You have to have skills, without skills it's really difficult. You need the basic education in drawing figure art, you should start with that and you should sketch everything: it's the key."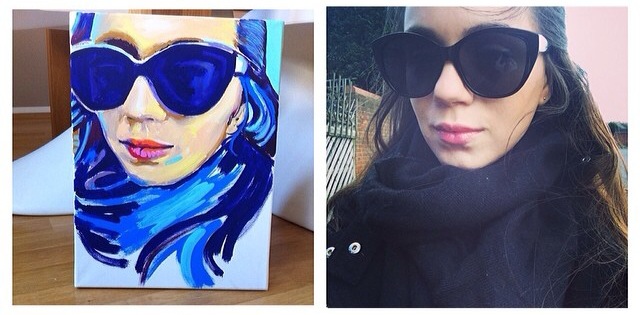 Ending this interview with a whole lot of laughs and smiles, Birte brought along with her a painting she painted of me ( Luoana Negut ). I am so impressed with her talent, and the awesome concept of my wind swept selfie.
 (c) Mariestyle 
All pieces shown here can be purchased. Contact  the studio at  +49 211 493 97 64 or e-mail   mail@mariestyle.de  if you are interested in any of the works (oil paintings, spray paint paper works, etc.). An artwork is always a very personal gift for every occasion and an investment, too. Contact for commissions, too. Painting your portrait in oil in any size or making spray paint works on paper or on canvas in a colour scheme that fits to your idea and interior design, as well as painting on walls directly is what I am specialized in (cf. Works and Recommendations on About-page).
Further links:
BLOG: http://instagram.com/mymariestyle
www.globalstreetart.com
Birte Marie Kube
studio      +49 211 493 97 64
e-mail     mail@mariestyle.de
---
---