BEAUTY BAG ESSENTIALS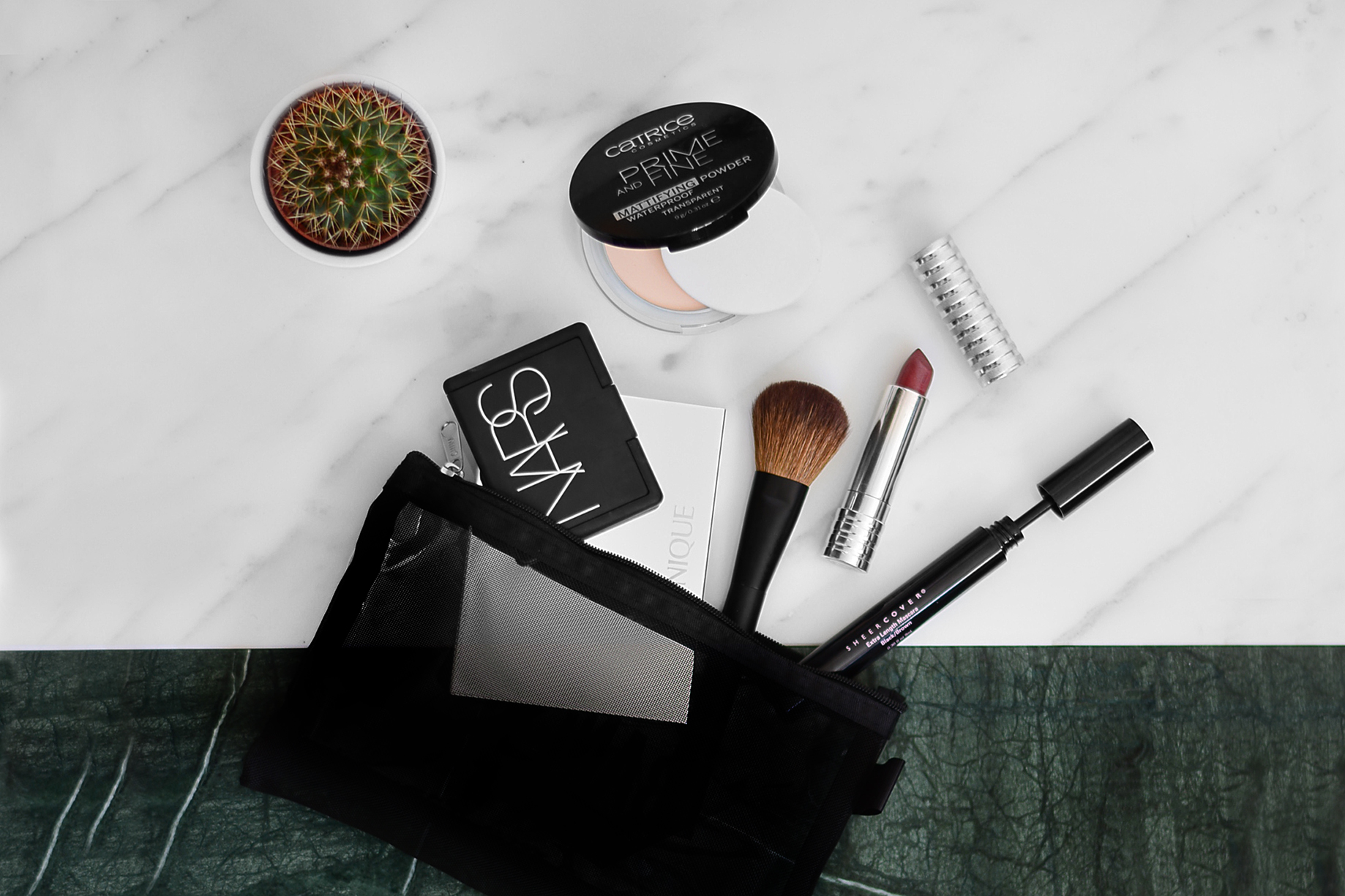 If you are a little like me, then your beauty drawers and shelves are packed to the brim with extra products that you might not use on a regular basis. Maybe saving them for that special occasion that's coming up or you've bought something and never had the chance to flaunt it yet. It happens to most of us beauty queens out there!
However, one thing I always make sure to have with me is a simplified beauty bag with just the essential makeup pieces that I can pick up and take with me in a moments notice.
Most days I might not even need to top up my make up or need to get ready on the go, but its good to have a mini essential beauty bag for popping into my workbag or have it at the office, perfect for after the gym or when I'm shooting and just need a little touch up.
My 5 beauty bag essentials: 
1. Translucent powder
I love a dewy look, but dewy can go from glowing to shinny in a matter of hours. Especially in the summer, rushing around on the London underground through crowds, it gets hot and sweaty… not the look I'm after. However, a light touch of translucent powder can save your the dewy look.
2.Blush 
For me a little illuminating peach blush can make a lot of a difference. Giving my face a glow and a light natural tint of rose on my cheeks when I smile! Always go for a blush with illuminating particles for "the glow", and NARS peach tint blush works for all sessions, its subtle enough that you don't need to make the regular change over.
3.Mascara
Lets be real here, no beauty bag is complete without mascara.
4.Eye shadow
Something I carry 'just in case'. I'm picky when it comes to eye shadows, I like my natural and earthy hues that are subtle enough to carry me from a day to night make up look. And Clinique Pretty Easy Eye Palette does just that; small and compacted in size and makes a statement when applied. Bonus points for the black and brown eye liners tucked inside – space saver!
5.Lipstick
Who doesn't want to have voluminous lips but also keeping it low-key! I love a slightly darker brown/pink hue to a lipstick, I usually dab it on rather then slather it, just to enhance my own natural lip colour. Always go for a lip colour that suits your skin tone if you want to keep things subtle.
I would love to know what you guys include in your essential beauty bag, and if there is anything that you think is worth adding into mine!
SHOP THIS POST





---
---