ASK, DON'T ASSUME #RespectBloggersHardWork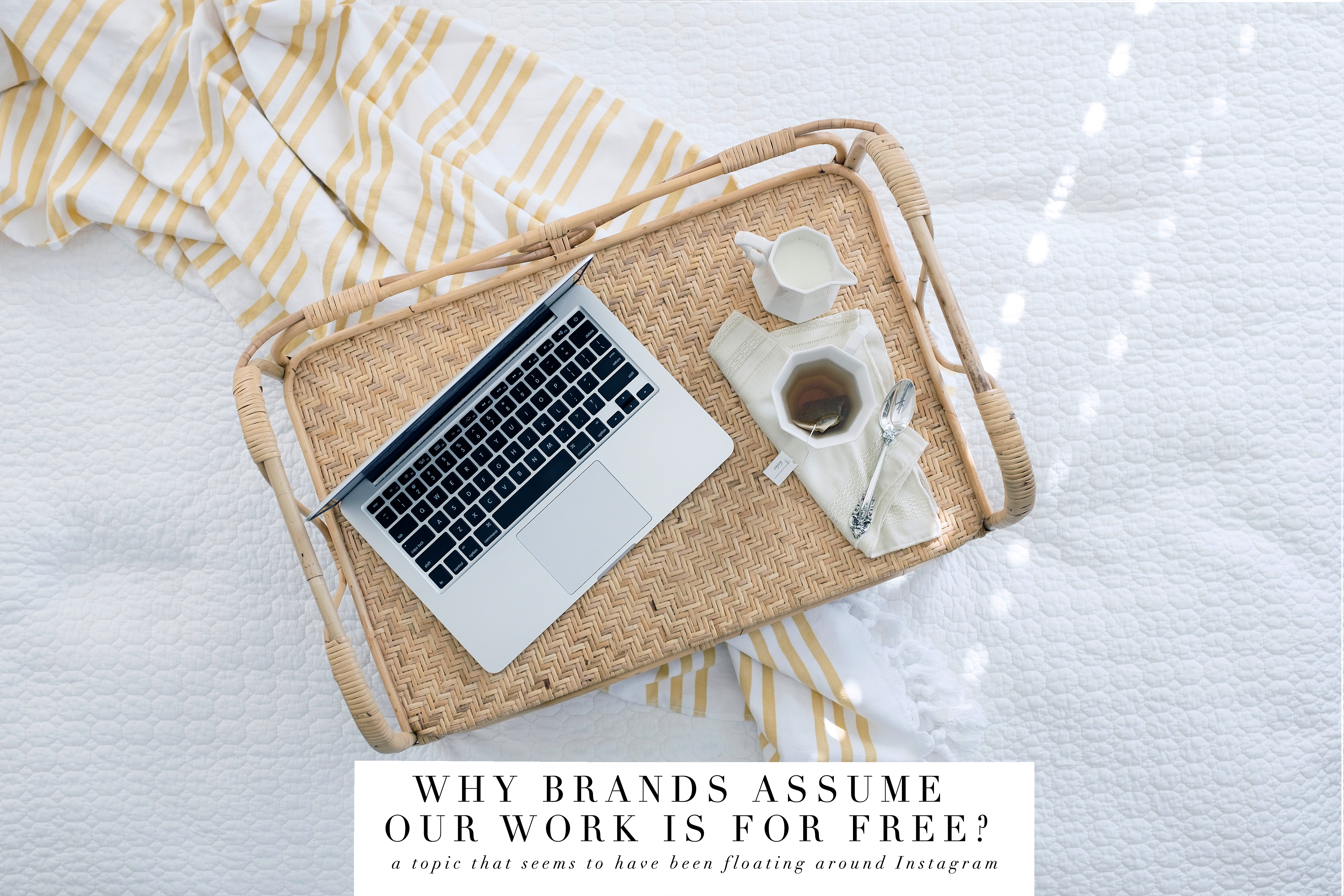 For those you of that haven't caught my latest post on Instagram (here), I briefly talked about "Why brands assume our work is for free?" I wanted to level with you guys and touch on a topic that seems to have been floating around Instagram lately, with a lot of bloggers being just as passionate about this topic as I am.
All bloggers and influencers that take this job choice seriously and make a career out of it know the sleepless nights, long hours, blood sweat and tears that go into what we do. We're passionate about creating great content while establishing a brand and its bloody hard work to organised, met deadlines and try to get everyone happy!
I think bloggers have shown their power of contention creation and creativity more than enough in the past years, especially creating content that if we were to recreate would be impossible.
So, please know that with paying us you don't only pay for posting a nice picture on Instagram, but NEGOTIATE DELIVERABLES, BUDGETS, DEADLINES, CREATE AND REVIEW CONTRACTS, CAMERA EQUIPMENT that wasn't cheap and costs to be insured, HOURS OF EDITING MATERIAL on expensive software, COSTS OF TRANSPORTATION, OUT TIME (which if not paid could go towards negotiating other projects), OUR CAMPAIGN IDEAS, and I can go on! I dare you to book one person for each part of the process and let me know the price per hour you'll have to pay them in the end!
A lot of work goes into achieving what we do, that being sponsored #AD or not, at the end of the day we choose how much we take on and how we work with clients. So here's a little breakdown of how I work, some blogger that has been in this business a lot longer won't necessarily be doing it in the same way; but here's my way. Roughly 8-12hr of work to create and finalise a set of images, conceptualising the idea for the post (30min-1hr), put together an outfit or products to style (30min-60min), book the photographer which also has a fee (1hr) location scouting (30-60min), taking the photo (1hr) editing the photos (1.5hrs), write the words to the blog post and creating the blog post, as there is editing there too (2hr), create the social media content, write image descriptions to explain the blog post and promote it (45min) and many more.
There is always something that can be done on social to get our work out there to as many of you as we can! I roughly post 6-8 photos per week on Instagram alone, not including 300-600 written words on the blog and 5-6 images per post per week. That means it takes anywhere from 20-30 hours per week to create all the content that you see posted on social (I don't want to add that I also work a full-time job). THE RECOMMENDED POSTINGS FOR MOST CONTENT CREATORS WHO TREAT THEIR SOCIAL MEDIA ACCOUNTS AS A BUSINESS IS AT LEAST ONCE A DAY. It may look like fun and games (which at times its so fun) but a lot of work goes into what we create!
So, I am sorry to decline but asking for all of that with no return fee for the blogger is so disappointing. I believe that if both parties agree to collaborate in exchange for a product fantastic, but ask, don't assume. Discuss and create a partnership, because when a blogger/influencer likes something he/she possibly will post about it without being asked. I do that all the time! We're influencers, after all, we influence, we're a brand and share with those who choose to follow us and our opinions.
To all you fellow current and upcoming new content creators out there, remember that time is MONEY, your time, ideas and creativity are gold, YOU ARE WORTH IT!
#RespectBloggersHardWork
Image via Unsplash
---
---