Are you a FUTURE JUNKIE ?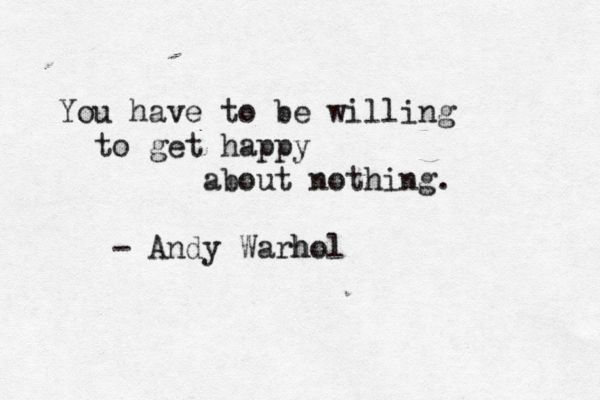 Ridiculously enough, we live in a generation that is driven by instant happiness, which in truth puts off long term happiness.
What friends of relatives, do you know that hasn't said, "Oh, life will get better and I would be happier with my self when I get a new job/car/lose 1stone "?  and to be very honest, we all do say something like once in our lives.
Studies show that only 10% of happiness come from future events and the rest, 90% is based on our mindset now..  we need to start channeling our present moments and filter out the future ..
Grab a cup of tea.
Relax and lets start feeling happiness today with these happy tips ! 
" BEING HAPPY ISN'T ABOUT THE BIG THINGS IN LIFE "
You're  kick starting 2014, and you might not feel the fulfilment or happiness you though you were going to feel .. say to yourself "NEW YEAR NEW ME".
Its never always that easy.
Surprising but true, even MONEY doesn't give full fulfilment: Studies have revealed that winning a lottery jackpot doesn't trigger any major transformation in the winner's wellbeing. " There is a short term boost, but sadly that soon fades".
You think you'll be happy when you get a new car or phone, but instead you worry you'll scratch it, then get frustrated when a new model comes out. Its a vicious circle to happiness,  the moment that doesn't complete your happiness but adds stress to the life you already feel unhappy with.
WHAT WILL MAKE US HAPPY? ( truthfully )
Simplicity.
How does that quote go ? oh yes, " ENJOY the little things in life, for one day you may look back and realise they were the big things" – Robert Brault
Being totally absorbed in some kind of activity – even something low-key, such as watching a gripping film, or going for a run/walk through the park… these simple things suspends our worries making up feel more relaxed, stress free and happy for longer.  Doing something for yourself, keeping you mind and soul active will give you fulfilment ..
you should give it a go for the " NEW YEAR NEW ME".
" THINKING, WHEN I… ' CAUSES THE WORSE DECISIONS "
Your body is a classic example. You became so convinced you'll be happier when you're a certain size or shape that you resort to unrealistic measures to get you to your goal size
– yea, I mean that brutal fad diet you keep being on for the summer as you NEW YEARS resolution.
Ladies and  Gents..  we don't realise ( neither did I at some point ) when you don't achieve the unrealistic goals we set ourselves , dismayed by the failure, we end up feeling much worse then how we were originally feeling at the beginning.
NOT ALL CHANGE IS BAD !!
TIP* – break up your goals  into small steps that will give you a sense greater achievements – START NOW !
 " YOU DON'T NEED OTHER PEOPLE TO MAKE YOU HAPPY "
Now, this was a big thing for me before I stepped off the pedestal I propped myself up on. I had this idea that the people in my life, friends and partners made my statues what it was. People put off potential partner because they aren't happy in their life – they are waiting for a partner to fix the gap so to speak.
But we're drawn to people who can CREAT happiness fro themselves, therefor we get influence to find happiness.
Taking alone time as a way to reflect on your day or the plans that you have, its doesn't  mean your alone and have no one. Friends and partners will still be there if you take a minute or two for yourself find your centre, and find that peaceful happiness.
You'll notice your partnerships, friendships and relationships grow stronger. 
7 Easy Tips to Actually Fixing Your Life in 2014
1. If you want to save money in 2014, learn to consign.
If you're anything like us, your desire to save money is probably at odds with your healthy interest (read: obsession) with fashion. We get it, and instead of cutting yourself off from shopping completely (because that would be awfully depressing), take some time to strategically plan out your purchases. Eyeing a new bag? Perfect! But don't let yourself purchase the item till you've sold a purse collecting dust in your closet. You can take your gently worn items to consignment stores like Second Time Around, or join the best online destination for such purposes: ebay. It only takes a few simple steps to use ebay like a pro.
2. If you want a new job, redo your resume. 
Don't just update your resume—revamp the entire document. The process will give your job hunt a perk and force you to reconsider your personal brand. Interested in graphic design? Then the layout of your resume might call for a creative approach. Applying for a job in digital marketing? Perhaps it's time to create a Tumblr page showcasing your best work and the campaigns you admire. Most importantly—get feedback. Show copies of your new self-on-paper to friends and former colleagues whose opinions you trust. Don't be surprised if that is a very short list of individuals.
3. If you want a boyfriend, go on at least one date per week. 
If your only approach to finding a boyfriend is going out with your group of girlfriends and ignoring all other people at the bars you frequent, it's time for a change. It might be painful at first, but force yourself to go on at least one date per week with someone you've been set up with, met online, flirted with at the gym, etc. Even if the dates are horrible, you can feel proud and productive that you carved out time in your crazy schedule to dating and meeting people.
4. If you want to lose weight, get a session with a personal trainer.
Few people in this world approach the New Year without wanting to improve something health-related in their lives. Instead of splurging on a gym membership or pilates class packages, focus your funds on a one-hour session with a personal trainer. Realistically, if you're only going to make it to the gym once or twice a month, your money is far better spent with a personal trainer for one hour then reading on the elliptical twice a month.
5. If you want to learn a new language, sign up for a class. 
Gone are the days when a six-week language course costs as much as a month's rent. Language classes are often offered on discount sites like Living Social, Groupon, and Gilt City. At a fraction of the price, you might just pick up a new language and a new flame. Who wouldn't want to practice their conversational French over a class of Bordeaux?
6. If you want to travel, request vacation time now.
It's not uncommon to procrastinate booking your travel plans, whether you're deliberating over cost, location, or both. But if you request the vacation time and have it approved far in advance, a large part of the planning process is over. Plus, if the time rolls around and you haven't scrounged together the funds to take that 10-day Moroccan tour, you can improvise at the last minute and visit friends or family in a city nearby, or plan a relaxing staycation in your hometown.

7. If you want to be a better friend, pick up the phone.
It may seem totally passé, but in a world where people communicate primarily through texts and tweets, a phone call goes a long way. See that a friend traveled to Paris from her incredible Instagram photos? When you notice she's back in town, pick up the phone to learn about her trip. (And like her photos on Instagram, too. Duh.).
Lets Enjoy our life by DOING WHAT MAKE US HAPPY !!!
This blog post was inspired by Mari Claire and Glamour magazine articles
Read more: 7 Easy Tips to Taking Action in the New Year – New Years Resolutions – Marie Claire
Follow us: @marieclaire on Twitter | MarieClaire on Facebook
Visit us at MarieClaire.com
---
---