3 INGREDIENT BANANA COOKIES #BakeAMillion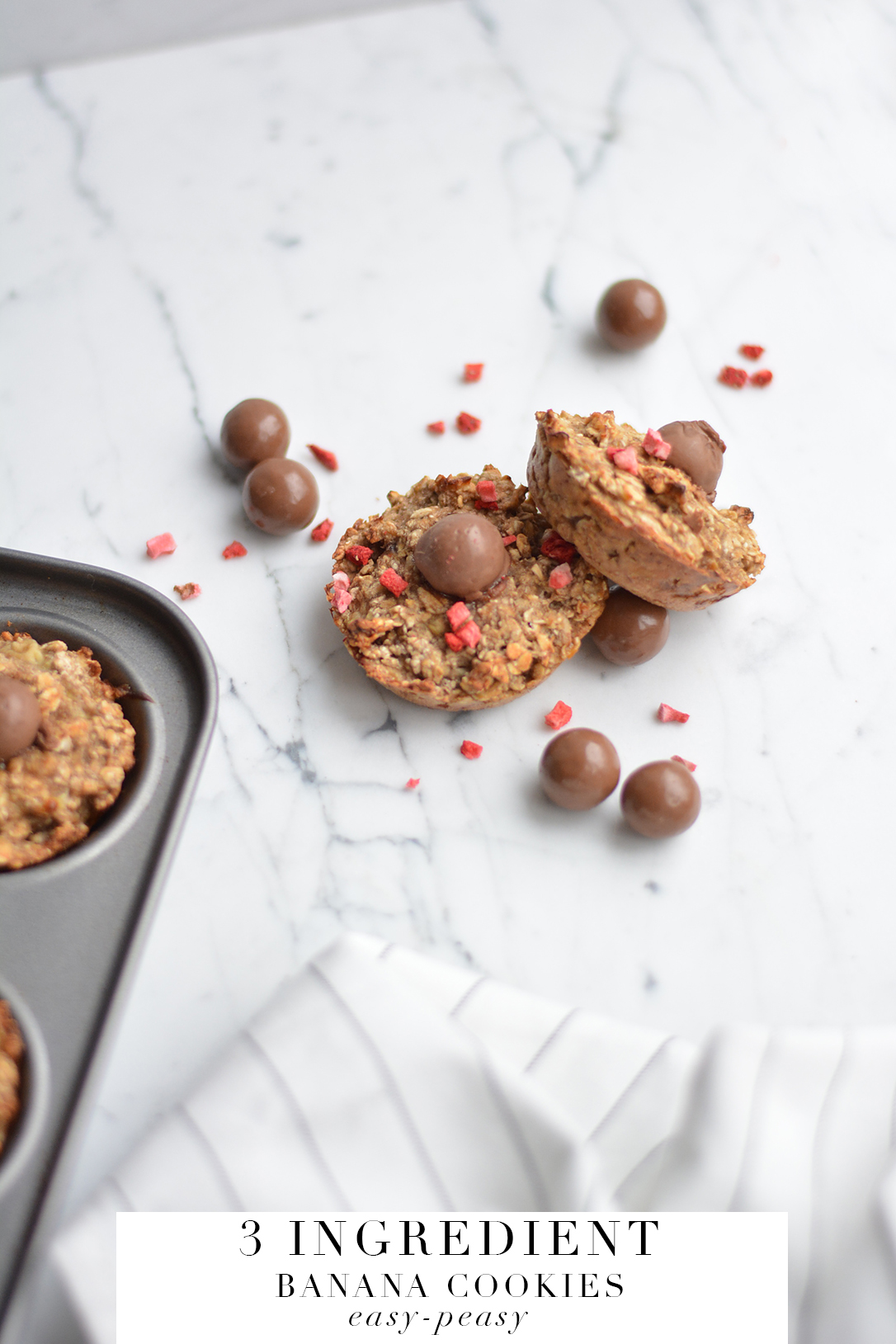 I've always been keen to simplify things down, make things easier for myself in my everyday life, from my wardrobe to the food I make; and this recipe is the perfect example. I love whisking something super fast that also tastes good and is healthy for you. So, you can image that when I got the opportunity to #BakeAMillion with Maltesers in association with Red Nose day to bake and help raise money for Comic Relief, I jumped at the opportunity to share this easy 3 ingredient yummy snack that takes little to no time, but goes a long way!
These cookies taste amazing right out of the oven or the next day as a quick breakfast on the go with half of the cookie being banana, you're getting 1 out of your 5 a day in a bite! They are the perfect cookie texture, with a crispy exterior and chewy, decadent inside. There's absolutely no butter, eggs or flour in here, so if you are looking for "healthier" version dessert/snack, then look no further than these 3 INGREDIENT BANANA COOKIES.
Ingredients:
3-4 bananas (the older the better, softer, easier to mash down)
1 cup of plain porridge oats
Handful of Maltesers  for each cookie topping
Directions:
Preheat your oven to 350 degrees. Line each cup of the muffin baking tray with grace proof paper.
In a bowl, mash down 3-4 bananas with a fork/whisk till a thick paste and then add a cup of porridge oats, mix those two together. Old bananas are even better for this. If it seems too runny and the cookies would flatten out too much, add in more oats.
Using cookie scoop, spoon or your hands fill each of the muffin cups with the cookie mixture, then on each place one or two Maltesers chocolate balls for a little extra treat.
Bake for 12-14 minutes until golden brown. The cookies will be soft coming out of the oven but become chewy and crisp when they cool. Let sit on pan for 5 minutes and then transfer to cool on a wire rack. Sprinkle dry strawberries pieces for a pretty display. Store in a container or serve right away!
This mixture will make 12-16 cookies.
If you too want to give it a go – Maltesers would like to invite you all to bake and help raise money for Comic Relief!
Simply bake using Maltesers, making a Maltesers masterpiece (or #cakefail it doesn't matter). Upload a photo to either facebook.com/Maltesers or another social media platform of your choice to take part.
Ready, Set, Bake!
@MaltesersUK / #Bakeamillion
---
---